Join Monterey Bay Whale Watch Thursday October 12 and Friday October 13 for a 4-5 hour trip starting at 10 a.m. Tickets are $140 per person for one day or $270 for both days. All proceeds go directly to the Dolphin Project.



"Join me on the 12th & 13th of October for our first ever Dolphin Project expedition. We'll be on the water with Monterey Bay Whale Watch, searching for a variety of species of dolphins. 100% of every ticket purchased goes towards Dolphin Project and our ongoing campaigns. Tickets available now and I look forward to seeing you there!"
~ Ric O'Barry, Founder/Director of Dolphin Project

Dolphin Project is the largest dolphin protection organization in the world. A non-profit charitable organization, dedicated to the welfare and protection of dolphins worldwide. Founded by Richard (Ric) O'Barry on Earth Day 1970, the organization aims to educate the public about captivity and where feasible, retire and/or release captive dolphins.

Monterey Bay Whale Watch is whale watching company owned by a marine biologist, with trips led by marine biologists who pride themselves in conservation, education, and research. Monterey Bay Whale Watch has been dedicated to data collection for over 35 years, specifically focusing on research efforts on orcas, humpback whales, blue whales, gray whales, and different dolphin species. We love bringing our passengers out on the water to see wildlife in their natural habitat - there is nothing like seeing wild and free dolphins! Species we are likely to see on these trips include Risso's Dolphins, Pacific White-sided Dolphins, Northern Right Whale Dolphins, Humpback Whales, sea otters and seabirds and possibly Killer Whales (Orcas) and Blue Whales.

We love supporting different conservation organizations, and Dolphin Project holds a special place in our hearts as one of the leading organizations educating the world on captive cetaceans, documentation/education efforts in Taiji, Japan, and retirement/rehabilitation of captive dolphins. We are so happy to partner with Dolphin Project and be a part of this wonderful fundraiser!

Reservations are required. You can sign up by using our online Fundraiser Cruise reservation form or by calling (831) 375-4658. Reserve early since the number of spaces are limited for these very special whale watching trips!

Learn more about the Dolphin Project.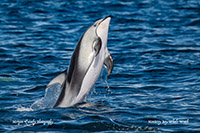 Pacific White-sided Dolphin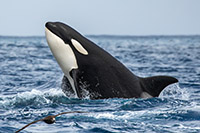 Killer Whale (Orca)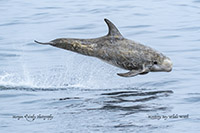 Risso's Dolphin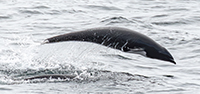 Northern Right Whale Dolphin