As we enter November, the fog has disappeared and we can expect some nice clear days. This has been a phenomenal year for Blue Whales, and Monterey Bay Whale Watch has sighted Blue Whales just about everyday since mid-July. As of November 3rd, Blue Whales are still feeding over the canyon in Monterey Bay.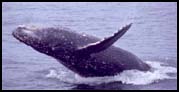 A surprising event occurred on November 4th. We received a report of a few Humpback Whales on the north side of the Bay. As we headed toward the area, we found a few whales, then scanned with binoculars farther to the west and were amazed by the number of blows we saw. We estimated over 70 Humpback Whales were within a 2-mile area feeding on huge schools of fish, along with several thousand California Sea Lions. The whales were in groups of 2 to 8 as they rushed around with the sea lions chasing fish. We hadn't seen so many whales since the beginning of the feeding season in May. As the whales are nearing the time of their migration to Mexico for an overwintering fast, they may be filling up on the huge masses of fish in the Bay. Humpbacks primarily feed off Central California and are always on the move looking for the best feeding opportunities. We cannot predict how long and if they will stay, but just being in an area with groups of whales blowing everywhere around us was incredible! Blue Whales were still reported near the southern canyon as well.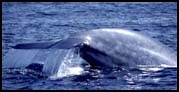 Blue Whales are the largest animals ever to live on earth, reaching lengths of 80 to 100'. Their current population estimate for the whales that feed off California is just over 2,200. With less than 10,000 Blue Whales worldwide, the California population is the most numerous in the world. During this past fall, several researchers were out and about along the coast studying these whales. Monterey Bay Whale Watch assisted John Calambokidis (expert scientist on Blue Whales) of Cascadia Research with the introduction to the National Geographic Explorer special on Blue Whales. In addition, we contributed many identification photos of both Blue and Humpback Whales sighted on our trips to his nonprofit group. These photos are used to estimate the population each year as well as determine movements and residency times of whales feeding off California.

We also worked with the BBC Natural History Unit from England on a feature about our Killer Whale research, to be aired on the Blue Planet series next year. The crew came along with us and had spectacular Blue Whale sightings in October. Nancy Black, our lead marine biologist, was interviewed for the special.

Also, Bruce Mate from Oregon State University has been placing satellite tags on a few Blue Whales, hoping to track their migration to their wintering areas offshore of Costa Rica. This information is needed to determine critical habitat use for these endangered whales.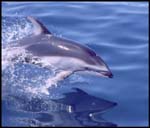 In addition, fall has brought us large schools of dolphins. As the sea surface temperatures warm up during the fall, we have frequently observed large schools (sometimes up to 5,000) of Long Beaked Common Dolphins. Other dolphins have been abundant as well, including Risso's Dolphins, Pacific White-Sided Dolphins, and Northern Right Whale Dolphins. Killer Whales often cruise through during November as well.

During November and December, the Blue and Humpback Whales will start heading south to their breeding areas, and we will run our trips through the weekend of Thanksgiving and will begin again during mid-December for Gray Whales. We cannot predict how long the Blue and Humpback Whales will be sighted in Monterey Bay, as each year is different depending on abundance of food. However, there is still a good chance to see either or both whales plus dolphins during November. We cannot guarantee whales during November as it approaches the end of the season for these whales. If by chance we miss whales on a trip, we give out free passes for another trip.



Since this time of the year is a slower time for tourists in the area, we are offering an Internet coupon special with a $4.00 discount per person for the rest of the 2000 summer/fall whale watching season. Look at our daily sightings for updates on these whales and dolphins.