Update: Blue whales arrived in good numbers in mid-July and are continuing to be seen daily as of late August. For the latest sightings see our Current Sightings Report.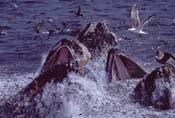 As the end of spring approaches, the upwelling season is in full swing. Afternoon winds drive the nutrients from the deep ocean up to the surface to create massive plankton blooms along with cooling ocean temperatures. This coincides with the arrival of Humpback Whales in Monterey Bay to feed on the tremendous number of anchovies, sardines, and krill which thrive on the plankton.

The Humpbacks arrived early in April this year and are increasing throughout the area as they migrate to our coast from their Mexican breeding grounds. Monterey Bay is a prime feeding area for the Humpbacks and each year we are seeing more whales arriving earlier and staying late into fall and early winter. These endangered whales are showing signs of recovery, now numbering over 1,000 whales in the population which feeds off California.



For fourteen years our biologists have been photo-identifying the individual whales by the distinctive markings on the underside of their flukes. All our photos and data are contributed to Cascadia Research, a non-profit group based in Washington State, and are used to estimate the whales' population and look at whale movements, associations, behavior, and migration patterns within the North Pacific Ocean.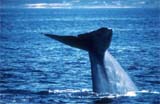 The first Blue Whales, the largest animals on earth, should arrive sometime in June and feed off our coast through fall. These whales feed only on krill, a small shrimp-like animal found along the Monterey Submarine Canyon by the millions. A single Blue Whale may eat up to 4 tons of krill each day!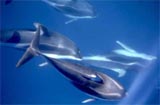 As the seasons change, several dolphin species have become abundant and frequently sighted, the most prominent being the Pacific White-Sided Dolphins which often feed on fish with the Humpback Whales. Over the last few weeks, we've seen as many as 2,500 in one school. Other dolphins, such as the Risso's Dolphins, which feed only on squid over the canyon, and Northern Right Whale Dolphins have also frequented the Bay.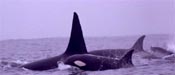 Most exciting in recent weeks has been our periodic Killer Whale sightings. We just finished up our third season working with National Geographic Television on a special about Monterey Bay, focusing on our Killer Whale research. We worked with one of the top natural history filmmaking teams -- Paul Atkins, Grace Atkins, Anne Marie Hammers, and Mark Atkins. The special will feature our biologist Nancy Black and Captain Richard Ternullo, and we will post the date when the film will be aired on National Television.

As top predators, Killer Whales often frequent our Bay during spring, hunting for Gray Whale calves migrating north to Alaska with their mothers. We also observed several predation events on sea lions, involving Killer Whale calves and juveniles learning to hunt with their mothers. Killer Whales can be sighted anytime of year in the Bay. These "transient" type whales don't have a migration pattern and are constantly roaming the coast with periodic visits to Monterey Bay where they often travel along the canyon edge.

We look forward to the summer and fall period as the diversity of mammal and bird species is greatest, food is most abundant, and spectacular feeding events may occur. Each day is different on the ocean and we never know what to expect or what animals or behaviors we may encounter on our journeys throughout Monterey Bay.