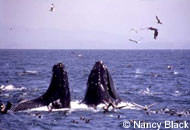 As winter approaches in Monterey Bay, humpback whales are feasting on the still abundant schools of anchovies as they finish their long feeding season off the California coast. Monterey Bay is a prime feeding area for them and we find the humpbacks relatively close to shore often near the deep and productive Monterey Submarine Canyon. This is their last chance to take advantage of food and fatten up before leaving for their winter breeding areas off mainland Mexico and central America where they will fast for several months while mating and giving birth in warm waters.

In recent years, some humpbacks probably younger whales have even stayed through the winter off our coast, as they are too young for mating. As the population of humpbacks increases we expect this trend to continue. Humpback whales are still endangered with a population of close to 1,200 whales that feed off California and breed off Mexico. Historically, before the whalers hunted humpback whales, Monterey Bay had an abundance of humpbacks and records indicated they were hunted here year-round. As their population increases each year due to full protection, they soon may be taken off the endangered species similar to the gray whale, the only whale that has fully recovered from the intense hunting of the 1800's and early 1900's.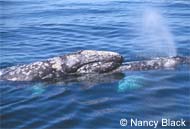 Gray whales are a true success story with a population close to 23,000. They pass by Monterey Bay on their migration from their feeding areas in the Bering Sea and north to their breeding areas in the lagoons off the west coast of Baja California. Gray whales have one of the longest migrations of any whale, traveling close to 12,000 miles roundtrip. Since they don't all leave their feeding areas at the same time, traveling in pods of 1 to 12 whales spread out over a few months, in Monterey Bay we have the opportunity to view them from our whale watching vessels as they migrate close to shore.

Gray whales migrate closer to shore in Monterey Bay compared to most places on their long journey due to the submarine canyon that is unique to Monterey Bay. The gray whales prefer to migrate in relatively shallow water so as they come from the north, the whales must cross the deep canyon then head toward Pt. Pinos (a point just west of Monterey), to re-enter shallow waters inside of the canyon. Therefore the gray whales are more concentrated and easier to find off Monterey than other places along the coast where they may spread out up to 20 miles offshore compared to just a mile or so from shore in Monterey Bay.

We start seeing the first pods passing by during mid-December with a peak during January as they travel south and we continue to see southbound whales into mid-February, at which time the first grays pass by on their way north with a majority passing through on their northbound migration during March. The adult whales are the first to leave their breeding lagoons while the mothers with new calves stay in Mexico longer to nurse their calves and fatten them up for the long migration to Alaska. When the mothers and calves pass Monterey Bay during a second phase of the gray whale migration during April and May, killer whales, their natural predator, are often patrolling Monterey Bay's canyon in search of the calves.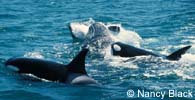 Monterey Bay is one of the few places where these amazing natural predation events can be witnessed. As the number of gray whale calves born each year has increased, more killer whales have learned that the Bay is a prime area to hunt them. Normally mother and calf gray whales travel very close to shore often just outside the surf line and kelp beds but when they must venture across the canyon they become more vulnerable to killer whales. The killer whales have an advantage if they can find the gray whales over the deep canyon because it takes several hours for a group of 5 to 20 killer whales to overtake a gray whale calf. If the gray whales can make it to shallow water near shore, they can escape the killer whales by hiding near rocks or staying in less than 20' of water. Every year, we do witness such attacks, some successful, providing a much needed food source for the killer whales, and some where the gray whales are able to escape near shore.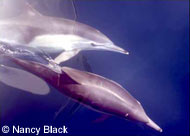 In addition to the yearly winter and spring migration of the gray whale, an abundance of dolphins are also frequently encountered during the winter. The dolphins also feed in Monterey Bay and over the canyon on fish and squid year-round and unlike the baleen whales (gray, humpback, blue whales) they do not undergo a migration. The waters are actually warmer off our coast during the winter, due to a predominance of a southern current and species of dolphins found in southern California, mainly the long-beaked common dolphins, are often sighted in the Bay. We also see Risso's dolphins, Pacific white-sided dolphins and northern right whale dolphins in the winter sometimes in groups of several thousand.

The diversity of marine life in Monterey Bay is tremendous and has been compared to the plains of Africa as far as the abundance of large mammals. Our whale watching trips run daily from Fisherman's Wharf in Monterey to view these animals. Trips to see gray whales last about 3 hours and are led by marine biologists offering a fun and educational trip for all ages. For reservations call Monterey Bay Whale Watch at 831-375-4658 or go to our secure online reservation form on our web site where we post daily sightings at www.gowhales.com/slstcurr.htm.