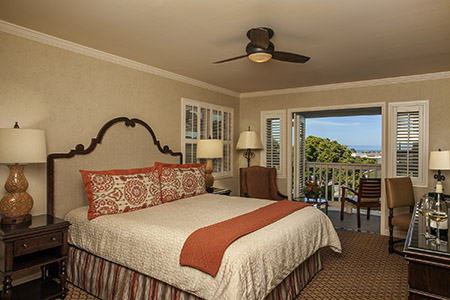 Located in the heart of the beautiful coastal town of Monterey, Casa Munras Garden Hotel & Spa is built around the original hacienda of Don Esteban Munras, the last Spanish diplomat to California. The hacienda was built in 1824 and was one of the first built outside the Royal Presidio of Monterey. This Monterey hotel is ideally located near many of the most visited attractions in the Central California region. Fisherman's Wharf, The Monterey Bay Aquarium and the shops and restaurants in the downtown area are just steps away from the hotel.
Amenities of the Casa Munras Garden Hotel & Spa
Outdoor heated pool and patio area
Complimentary wireless High-Speed Internet access in public places
Same day laundry and dry cleaning (Sunday excluded)
Complimentary state-of-the-art business center featuring computers, color printer and copy machine
Complimentary DVD rental
24 hour front desk service
Freshly baked cookies at registration in the afternoon
Fresh fruit in the lobby
Use of brand new Fitness Center
Concierge Services
For reservations or to get more details, call the hotel directly at 831.375.2411 or 800.222.2446, or visit the Casa Munras Garden Hotel & Spa website for more information.