For your whale watch reservations, reserve in advance either online or by calling Monterey Bay Whale Watch at 1-831-375-4658, making sure to mention the Hotel Abrego Whale Watch package in your comments. Also book online or call the Hotel Abrego at 1-800-982-1986 or 831-372-7551 to reserve your room and let them know you want the Monterey Bay Whale Watch package.


Monterey, California Hotel Abrego Whale Watching Package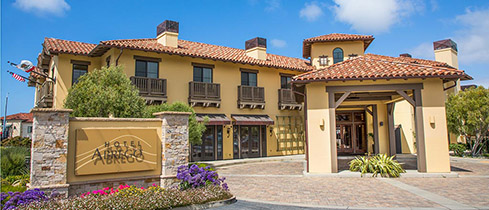 Delight in the sight of whales and dolphins in Monterey Bay by taking a whale watching cruise. Cruises depart from Fisherman's Wharf, which is just one mile from the Hotel Abrego. You'll learn all about these amazing mammals and other marine life from expert tour guides.

Raise the level on your whale watching experience while lowering the cost with our Monterey, California Whale Watching Package. The package features spacious accommodations and two adult tickets for a three-hour whale watching cruise.

Monterey, California Hotel Whale Watching Package includes
Overnight accommodations for two
Two adult tickets for cruise with Monterey Bay Whale Watch
(Trip time: 10:00 a.m. - 1:00 p.m. mid-December to March 30, 2 p.m. - 5 p.m. April 1 to mid-December)
The Hotel Abrego is within walking distance of the shops, restaurants, and exciting nightlife of downtown Monterey. Their convenient location also offers easy access to beaches, parks, and attractions, including Monterey Bay Aquarium and Cannery Row.

To make reservations for your room, book online or call the hotel directly at 1-800-982-1986 or 831-372-7551, ask for reservations, and tell them you want the Whale Watching Package. See the Hotel Abrego website to learn more about the hotel. You must contact Monterey Bay Whale Watch in advance to reserve your Whale Watch trip spaces for the day of your trip.



Amenities of the Hotel Abrego

Coffee maker
Iron & ironing board
Large-screen TV
Laptop-size safe
High-speed Internet access