Monterey Bay Whale Watch
Map of Marine Mammal Sightings in the Monterey Bay Region
January 1 - January 31, 2001
compiled by Richard Ternullo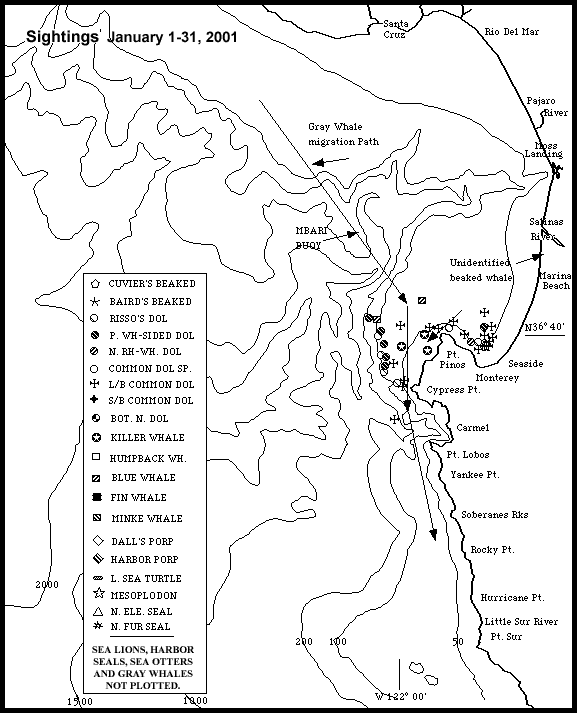 Note: Numerous California Sea Lions, Harbor Seals, and Southern Sea Otters are seen on all trips, and are not plotted on the chart.



Blue Whales have made a late season appearance and provided exciting sightings for everyone. The explanation of their presence is somewhat of a mystery, but old records indicate their presence into December. Gray Whales will continue to be the most often seen baleen whale until April.

Small toothed whales should be seen often and in great numbers through the winter.

Click for January 2001 daily sightings list (corresponding to map above).

The sightings plotted above were compiled by Richard Ternullo for the period 1/1/01 to 1/31/01.

Sightings reported by D. Frank, K. McGeorge, Marine Mammal Stranding Center, Monterey Bay Whale Watch, H. Neece, L. Oliver, R Ortiz, R. Smith, W. Williamson.

Copyright © 2001 R. Ternullo. No reproduction of the map or use of the sightings information is permitted without prior approval.

| | |
| --- | --- |
| | Sightings Map 1/1-1/31/01 |
Monterey Bay Whale Watch, LLC
84 Fisherman's Wharf
Monterey, CA 93940
Phone 831-375-4658
E-mail whaletrips@gowhales.com
Copyright © 2001 Richard Ternullo
Last updated February 16, 2001