Monterey Bay Whale Watch
Map of Marine Mammal Sightings in the Monterey Bay Region
August 1 - August 31, 2001
compiled by Richard Ternullo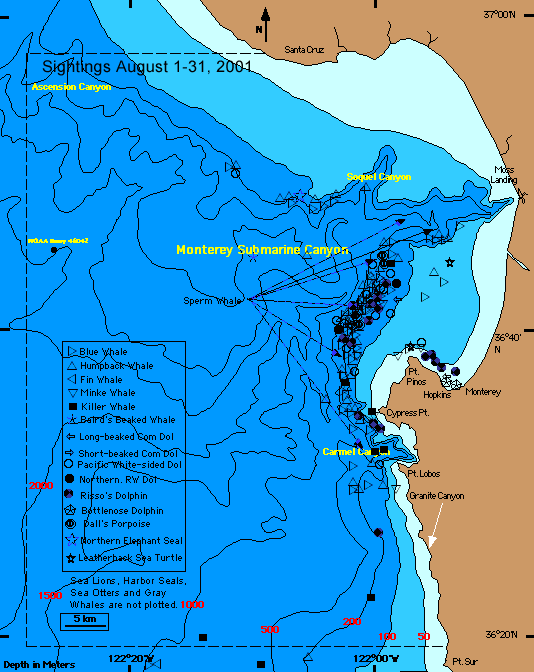 Note: Numerous California Sea Lions, Harbor Seals, and Southern Sea Otters are seen on all trips, and are not plotted on the chart.


Blue and Humpback Whales continue to be frequently seen along canyon edges and offshore feeding on krill. The Blue Whales have been exhibiting a lot of speed swimming or racing behavior. It is not known why they engage in this behavior, but recent evidence suggests that Blue Whales travel in male/female pairs and the racing is almost always associated with 3 whales. Perhaps the third whale is another male? The Sei Whale sightings and reports of whales meeting the description of Sei Whale are the most ever recorded. In other areas of the world Sei Whales are known to be erratic in their appearances and even described as "invasionary".

There has never been a recording period that contained so many sightings of Sperm Whale. It appears that the sightings are of the same male that has been seen over the past 2 years. Killer Whales have been present frequently and the resighting of a lone male (CA165) over the past 2 months is interesting.

There also seems to be some evidence ocean conditions are changing with the appearance of White Sea Bass, a large croaker. Catches of these once very depleted fish have not been seen in these quantities since the middle 1950's.

Click for August 2001 daily sightings list (corresponding to map above).

The sightings plotted above were compiled by Richard Ternullo for the period 8/1/01 to 8/31/01.

Sightings reported by J. Aliotti, N. Black, Cheeseman's Ecology Tours, Discover the World, D. Frank, D. Lemon, N. Lemon, Monterey Bay Whale Watch, H. Neece, R. Ortiz, L. Oliver, R. Smith, J. Wetle, W. Williamson.

Copyright © 2001 R. Ternullo. No reproduction of the map or use of the sightings information is permitted without prior approval.

| | |
| --- | --- |
| | Sightings Map 8/1-8/31/01 |
Monterey Bay Whale Watch, LLC
84 Fisherman's Wharf
Monterey, CA 93940
Phone 831-375-4658
E-mail whaletrips@gowhales.com
Copyright © 2001 Richard Ternullo
Last updated September 7, 2001