Monterey Bay Whale Watch
Map of Marine Mammal Sightings in the Monterey Bay Region
April 1-30, 2002
compiled by Richard Ternullo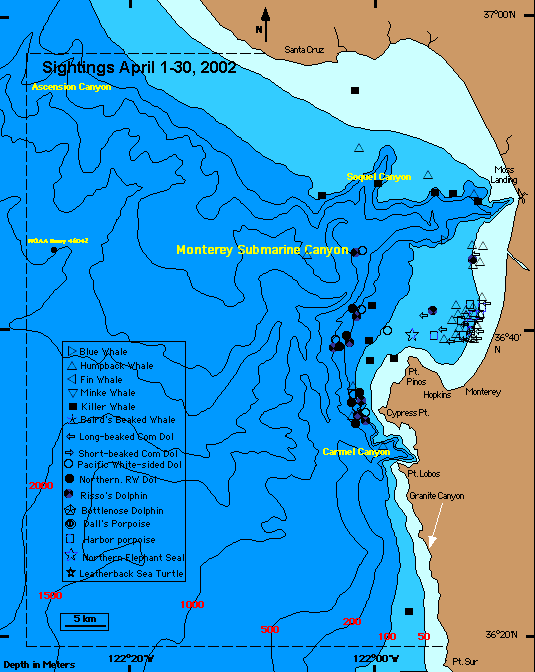 Note: Gray whales are not plotted on the chart. Numerous California Sea Lions, Harbor Seals, and Southern Sea Otters are seen on all trips, and are not plotted on the chart.


Humpback Whales have been seen mostly on shelf waters in Monterey Bay, feeding on Northern Anchovy and Pacific Sardine. In April they were the most frequently sighted large cetaceans in Monterey Bay, and they will continue to be until Blue Whales arrive in late June and early July.

Gray Whale mothers and young are transiting our area and have been attacked by Killer Whales. This appears to be a good year of calf production, judging from cow/calf counts from the Piedras Blancas count station. Killer Whales have been seen taking Harbor Seals as well as Gray Whales.

There have been numerous Harbor Porpoise sightings, often in association with feeding Humpback Whales.

This is the best time of the year to observe the spring pupping season of the Pacific Harbor Seal.

Click for April 2002 daily sightings list (corresponding to map above).

The sightings plotted above were compiled by Richard Ternullo for the period 4/1/02 to 4/30/02.

Sightings reported by M. Baxter, S. Dutton, G. Fisher, N. Lemon, Monterey Bay Whale Watch, H. Neece, L. Oliver, R/V Pt. Lobos, K. Stagnaro, T. Zoliniack.

Copyright © 2002 R. Ternullo. No reproduction of the map or use of the sightings information is permitted without prior approval.

| | |
| --- | --- |
| | Sightings Map 4/1-4/30/02 |
Monterey Bay Whale Watch, LLC
84 Fisherman's Wharf
Monterey, CA 93940
Phone 831-375-4658
E-mail whaletrips@gowhales.com
Copyright © 2002 Richard Ternullo
Last updated May 22, 2002